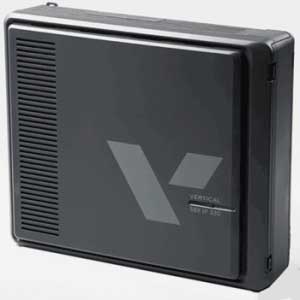 SBX Control Unit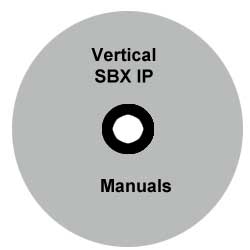 SBX CD Manual
Manufacturers
There are currently no product reviews.
Cassida Online Store
Are you tired of recounting money at the end of the day?
Would you like to make sure bills are not counterfeit?
Does your currency counter make unnecessary stops while counting?
Bill Counters
Advanced
Cassida Bill Counters use the latest technological advancements available in the industry. All Cassida machines utilize Infra-Red technology which maximizes currency counting accuracy as well as half and double note detection.
Time saving
All Cassida Bill Counters are equipped with an auto-start feature which significantly reduces time in cash processing operations. Machines start batching, counting, or adding automatically the moment bills are placed in the hopper.
User friendly
While Cassida Bill Counters are sophisticated pieces of equipment, end users don't need to worry about its intricacies. Designed with the user in mind our machines are intuitive and easy to operate. In fact you will be pleasantly surprised by the simplicity of the controls. No more complex and hard to memorize operations, everything is accessible with the push of a button.
Mobile
Accuracy, reliability, and ease of operation are not the only advantages of using Cassida counters. Lightweight and compact Cassida models are easily mobile thanks to the integrated carrying handle. And wherever you take it, the contemporary design will easily integrate into any business environment.
Coin Counters

Easy to operate
Just fill the hopper which can take up to 1500 coins, and let the machine sort and count for you while you concentrate on more important tasks. Come back to find all your coins accurately counted and separated into individual drawers with a detailed report including the total counted value and the subtotal value of coins counted for each denomination awaiting you.
Batching and adding
Any batch quantity from 0 to 500 can be individually set for each denomination. The Cassida C100 stops and alerts you when any denomination completes the preset batch. The denomination and the amount of coins counted will be displayed on the screen. Total counted value is automatically displayed on the screen as the machine counts, allowing you to stop the machine should you need a specific total value.
Complete solution
Counting coins can be a very time-consuming and tedious task. The Cassida C200 is an all-in-one solution for any coin handling need. It will count and sort all your coins at once. Coins can be sorted into designated coin bins, or can be directly put into coin rolls. Need to batch? No problem. The machine will stop exactly when you need it to. Need to see how many dimes it counted? You got it. How about the dollar amount of counted dimes? - it is there too… Whatever you need to do with your coins look no further. Cassida's C200 can do it all.
Wrapping coins
If you need to make coin rolls, just replace the coin bins with the supplied coin tubes. Coins are then sorted and counted directly into paper roll wrappers. Pressing a shortcut button once automatically sets batch quantities for all coin denominations and the C200 then automatically stops and notifies you when a particular coin roll is full.
Quiet and portable
The Cassida 200 has a large, easy-to-read LED display, is quiet in operation and with a built-in steel handle ready to travel whenever you are.
Counterfeit Detectors
The ultimate authentication machine
Simple counterfeiting has become available to anyone with access to a color photocopier. More professional counterfeits are crafted so exact that they are not distinguishable from genuine bills without the help of advanced equipment. The only reliable method of protecting yourself from fraud is to equip yourself with a professional counterfeit detection device.
IR
The Cassida 2200 uses powerful IR detection technology, making it one of the most reliable detectors in the industry. A bill's IR image is transmitted to the built-in monitor enabling you to visually determine if a bill is counterfeit at a glance.
UV and watermark
The Cassida 2200 allows you to check for the watermark and ultraviolet fluorescent marks present on all U.S. dollar bills as well as on checks, credit cards, ID cards, passports and other valuable documents. Just place the document in question under the illumination slot and a distinguished pattern, invisible to a naked eye, will be instantly revealed.
MG
Counterfeiters have kept abreast of technological advancements and are increasingly able to counterfeit UV marks. The Cassida 2200 lets you verify the more difficult to duplicate magnetic marks present on paper currency.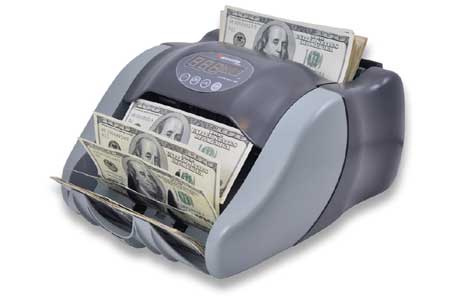 Cassida Bill Counters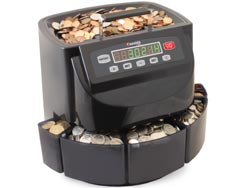 Coin Sorter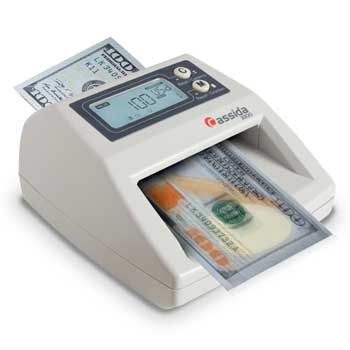 Counterfeit Detectors
New Products For April - Cassida Online Store
Important Links

V200 Wireless Headset
$194.00
$149.00

Save: 23% off
Who's Online
There currently are 16 guests online.
Your IP Address is: 3.235.66.217