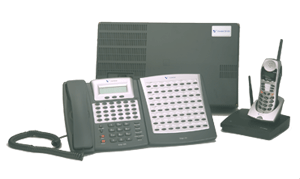 Comdial DX-120 system configuration starts at 4 lines in X 8 digital station executive phones X 2 available analog ports for fax or cordless phones.
The optional Automated Attendant Module handles calls while the attendant is not available. Example: for sales press 1, for administration press 2, and accounting press 3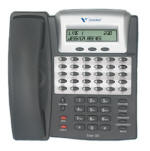 Caller ID - LCD Display - 30 Programmable Buttons - Interactive LCD
Speed Dial - Message Waiting Lamp - Hands Free Speaker Phone
Edge 120 Executive Speakerphone is the replacement phone for the DX80
This sleek, ultramodern endpoint puts you in control of your business communications. You get nearly 200 time-saving calling features.
---
Tenant Service. By using tenant groups, the Comdial DX-120 can be configured to operate as if two or three systems are deployed at a single site. Paired with the Comdial DX-80 Music-On-Hold sources, the Comdial DX-120 is capable of service multiple businesses while meeting the specific customization requirements of each business.
The optional digital voice processing card allows your office to take advantage of call recording of active calls, call screening asks the caller to say his/her name then announces the call and callers are given the option to to hold for a busy extension or leave a message.
On-board modem allows remote configuration and management of both the actual phone system and the voice processing system.
(7270c model only)
Built in caller ID provides the callers name and phone number information when available. Caller ID service must be provided from telco provider.
Meet me call conferencing. The Comdial DX-120 allows the capability of 8 "Meet Me" conference calls. This allows your associates to dial right into a conference call from on or off-site.
Automatic fax detection allows the your company the ability to route incoming fax transmissions through the DX-120 to the fax machine reducing the cost of a separate fax line while providing your office the availability of an extra phone line to dial out on.
Automatically transfer calls off premise with a touch of a button to associates home or mobile cell phone.
Pager notification of voice mail sends a page to your associates pagers to let them know of a newly arrived voice mail message.